At LMS Energy (LMS), we believe in preserving our planet and environment for generations to come. To achieve this, LMS captures methane generated by waste and utilises it to create renewable energy (bioenergy). LMS leads the industry in this field and is responsible for destroying methane across the majority of the country's landfill sites. We exist to reduce the climate impact of waste, converting it into renewable energy and preventing methane from being released into the atmosphere. 
With more than four decades' experience in the waste and bioenergy sectors, LMS is Australia's most experienced landfill biogas company and has developed world-leading technology and expertise in this field. LMS owns and operates more than 60 biogas projects (90MW of installed capacity) across Australia, New Zealand and the United States. The company is 100% Australian owned and its bespoke in-house business model, which includes local Australian manufacturing, provides a comprehensive suite of the specialised technologies and services required to develop and operate waste and bioenergy projects.
Each year, LMS sites collectively generate 600,000 megawatt hours of baseload renewable energy (enough to power 100,000 homes each day), while abating more than four million tonnes of carbon (CO2e) from entering the Earth's atmosphere. This carbon abatement is equivalent to taking 1.6 million cars off Australian roads every year or planting 68 million trees! This significant greenhouse gas abatement also makes LMS one of the largest carbon abatement companies in Australia, with around 15% of the country's total emissions reductions under the Emissions Reduction Fund coming from LMS projects. 
LMS Energy believes a sustainable future requires the world to transition away from a 'take, make, use and dispose' economy towards a circular approach, where resources are valued and retained for as long as possible, waste and pollution are avoided, and nature regeneration is supported. This approach is known as the 'Circular Economy' and LMS is positioned to help drive this transition to a better future. Each year, LMS projects recover more than one million tonnes of contaminated organic waste and repurpose this waste into a valuable source of renewable energy, helping to power our communities. LMS is also actively developing a range of technologies to support the transition to a Circular Economy.LMS is working hard to help reduce the environmental impact of waste, while supplying Australians with secure, affordable, clean energy.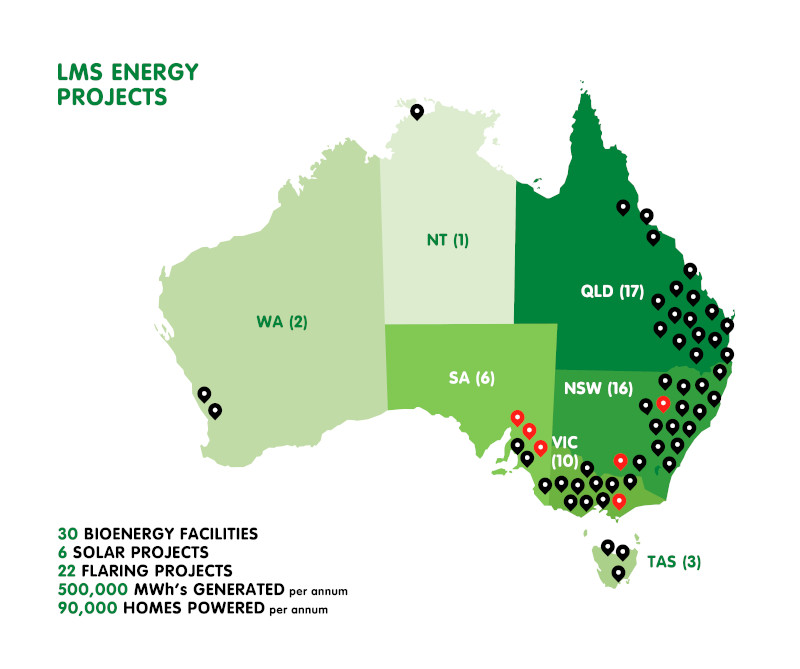 Values
LMS is a proud Australian company with strong family values. LMS' core values guide decision making and conduct for every LMS employee. These values are built into everything LMS does and are a key part of why LMS has never had a project failure in its 40-year history. Partners of LMS can be assured that we will live out these core values every day, from contractual close all the way through to day-to-day operations. At LMS, we follow through on our commitments and continuously strive to improve outcomes for our clients, the environment and the community.